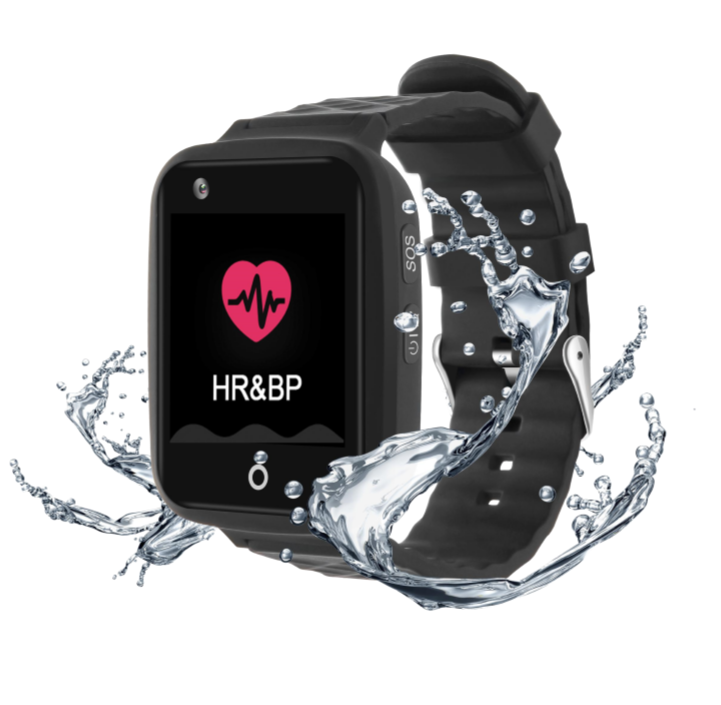 2nd Generation
Pioneer 4G Health
Care Smart Watch
Description
Geo-fence
A boundary area can be set and viewed real-time on the app. If the tracker exits the boundary, the alarm information will be sent to the mobile phone automatically.
Remove alarm + Low battery alarm
When removed, the watch immediately sends an alarm message to the mobile phone for promptly reminding the guardian for safety reasons. When the power is lower than 10%, the watch will also send a message to the phone alerting that the watch is on low battery.
Video Call
Start a video chat with the app or watch, or initiate group chats with other guardians.
4G Full  Bandwidth
4G Full-Bandwidth technology allows:
– positioning accuracy up to ≤ 5m
– Greater update frequency
– More accurate and more powerful
– Enables functions such as video chat and voice monitoring
HD Photography
Photography command can be sent remotely by app at any time to better understand the safety of the watch wearer.
Motion status
Device will record footsteps over time, which can be remotely viewed by the guardian to track the movement of the wearer.
Heart Rate / Blood Pressure
The watch can remotely measure the heart rate and blood pressure status of the wearer, can also check the heart rate and blood pressure status on the watch.
Sleep Quality + Pill Reminder
Sleep quality : Record sleep condition of the wearer over a period of time.
Pill reminder : Remind the watch wearer to take medicine by text or voice to provide them with better care.
Triple-Accurate Positioning
GPS + WIFI + LBS triple positioning:
-GPS positioning accuracy: 5-15m (Outdoors)
-WIFI positioning accuracy: 15-30m (with WIFI signal coverage)
-When indoors, device will switch to WiFi positioning. GPS will be used outdoors.
SOS + Family Number
Hold the SOS button on the right side of the watch to make a call to the preset number on the app. When an SOS is sent, the device automatically takes a photo of the wearer's environment and sends it to the app platform, which allows the guardian to observe the situation. It will also call the preset number. Up to three numbers can be set.
Alarm Clock + Watch Finding
Alarm clock can be set as needed. The GPS positioning watch can be made to ring by the app, so that the device can easily be found nearby.
Historic al Route
The server can save a historical route for three months, which can be viewed through the app, webpage, portal, etc., allowing you to recall the road you have taken and the scenery you have seen anytime, anywhere.
Multi-platform  Monitoring
Can view the position of the watch in real time on PC, app, online portal and other platforms at the same time.